Muse participating in research at the university of oxford
PhD student Marina Veseli is currently participating in conducting research on the impact of multiple stressors on freshwater communities with scientists from the laboratory of Prof. Dr. Michelle Jackson from the University of Oxford. The research involves four LilExStream automated systems with a total of 64 mesocosms set up at wastewater treatment plant sites in South West England. This research is part of the extensive PACIFIC project, the aim of which is to determine the routes of introduction of chemical compounds into freshwater ecosystems and their ecological impact.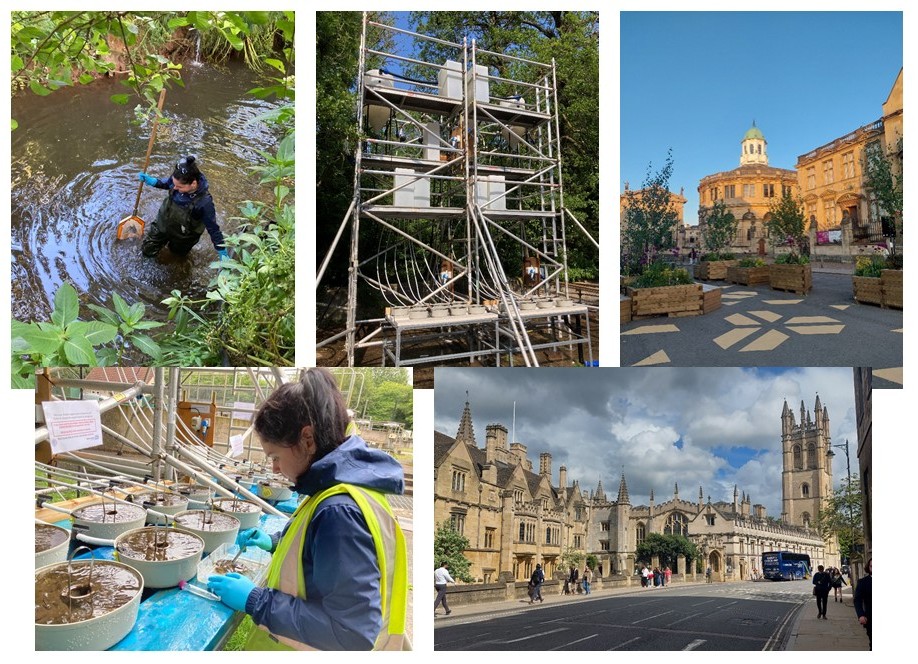 MUSE final conference
The project team organised final conference of the MUSE project. It was held on 13 March 2023 in hybrid form, the event was held live in Kraš, Ravnice 48, Zagreb, as well as online.
There were 2 invited lectures given by renowned experts in the fields of emerging contaminants in freshwaters and impacts of multiple stressors on aquatic ecosystems: Prof. Dr. Mira Petrović (Catalan Institute for Water Research-ICRA, Girona, Spain, and Catalan Institution for Research and Advanced Studies-ICREA, Barcelona, Spain), Assoc. Prof. Dr. Wolfram Graf (Institute of Hydrobiology and Aquatic Ecosystem Management (IHG), University of Natural Resources and Life Sciences, Vienna, Austria), respectively.

In addition, the MUSE team has presented results of main project activities. Hence, Marina Veseli presented in situ research addressing transport of emerging contaminants at the aquatic-terrestrial interface, while Iva Kokotović, Filip Ložek and Ana Previšić presented results of micro- and mesocosm experiments focused on investigating impacts of multiple stressors on freshwater organisms.

The conference was very well received, illustrating the relevance of this research topic. In total, there were 53 participants from several different faculties and institutes in Croatia, Austria and the Czech Republic.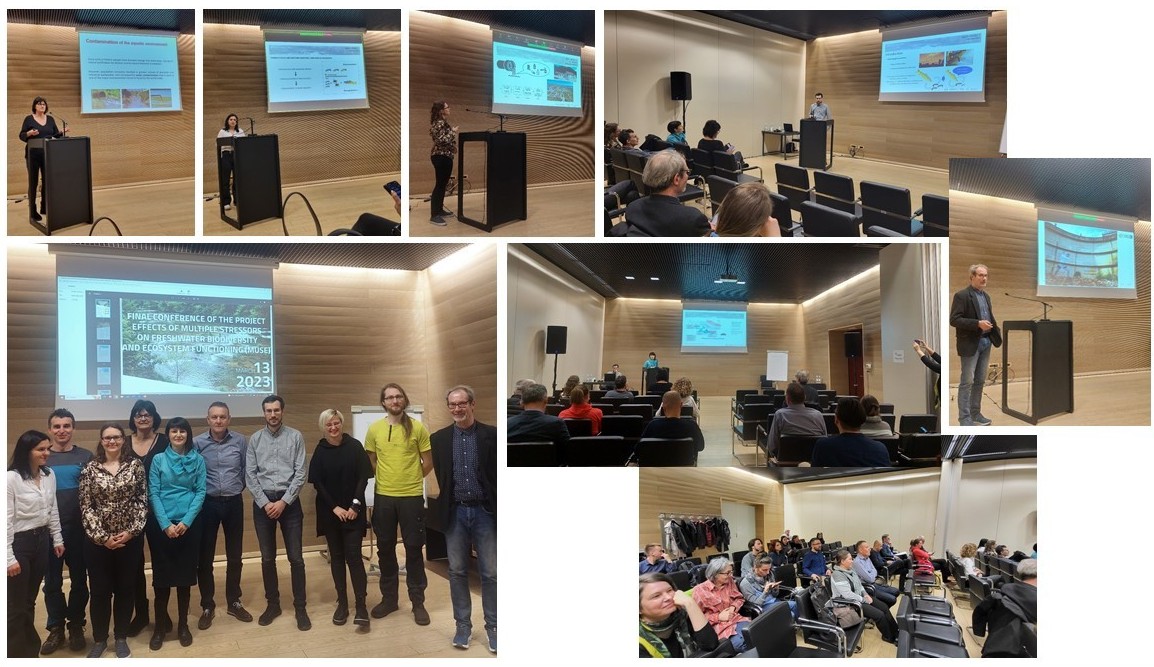 MUSE in Lunz am see, Austria
Marina Veseli, Iva Kokotović and Ana Previšić participated in the 17th International Symposium on Trichoptera that was held in Lunz am See, in Austria, at 04-09 September 2022. Besides presenting our work, we also met with Simon Vitecek and Wolfram Graf, our project team members from Austria, to discuss the outcomes of the research and to plan joint activities in the future.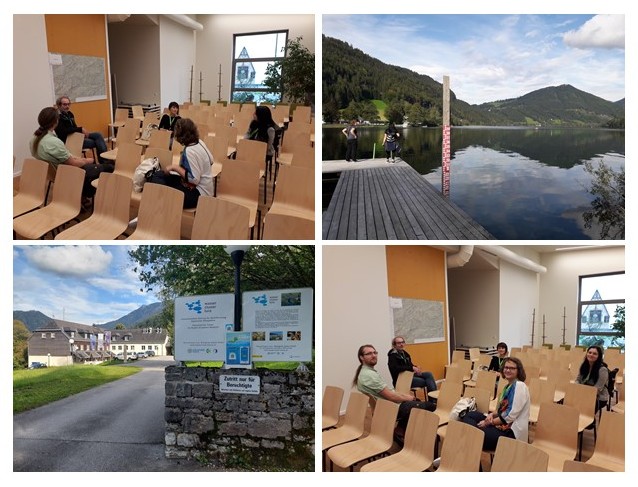 MUSE visiting WasserCluster Lunz, Austria
Iva Kokotović visited WasserCluster Lunz, Austria in June and conducted a mesocosm experiment as part of an international team within the Aquacosm-plus project Aquastress.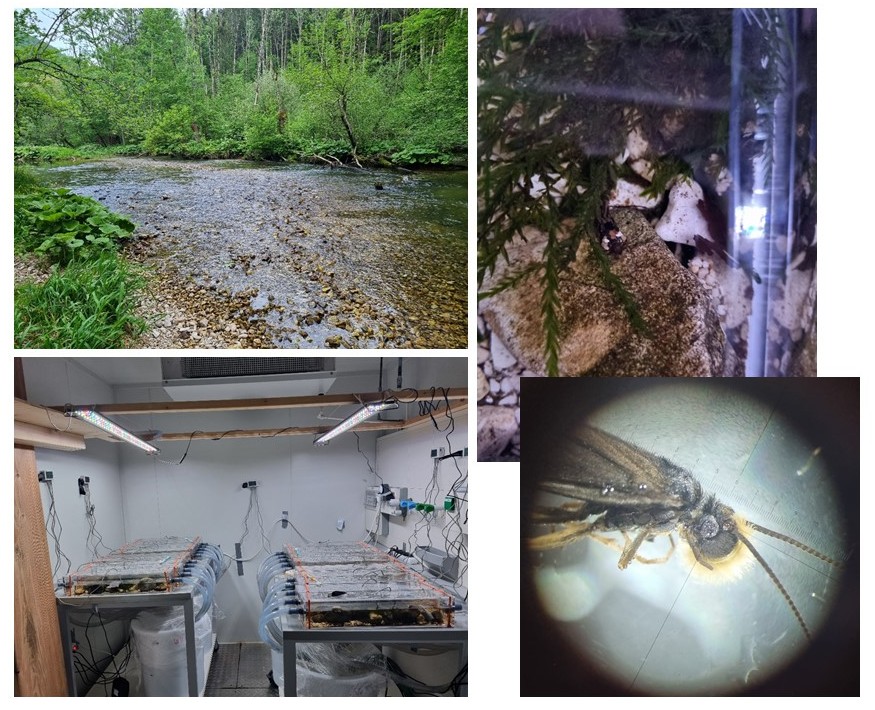 MUSE visiting icra (girona, spain)
Marina Veseli, Marko Rožman and Ana Previšić are visiting the Catalan Institute for Water Research (Institut Català de Recerca de l'Aigua (ICRA) in Girona, Spain. ICRA is our partner institution within MUSE, so we came to meet with Prof. Mira Petrović and other collaborators and to analyse some samples. We also presented our work, Marko held presentation within the Water Quality research area (RA), and Ana had a talk within the Resources and Ecosystems RA.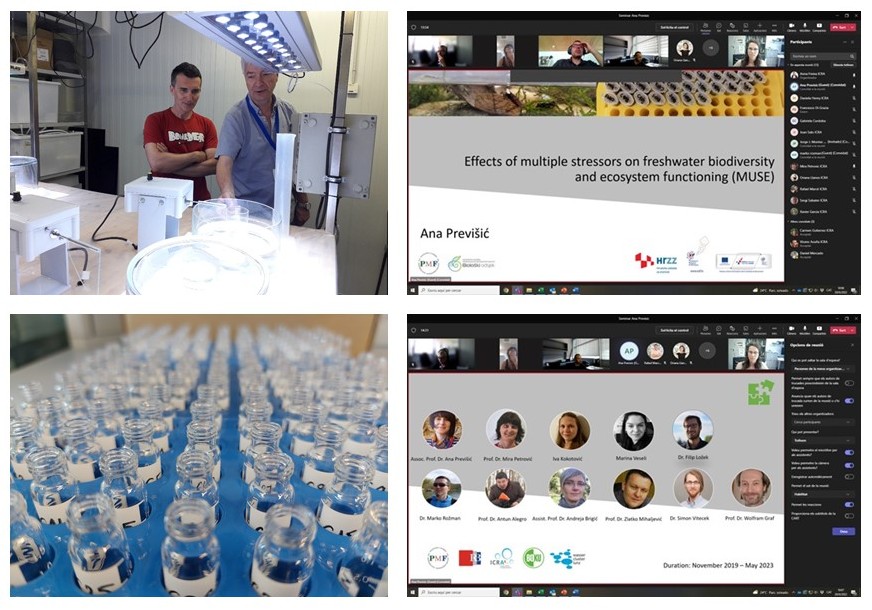 Project activities update: additional fieldtrips
We have decided to conduct additonal field trips at the wastewater impacted Sutla River, NW Croatia, were we collected aquatic and riparian invertebrates last year. This year we are aiming at collecting the same taxa in order to find out food web relationships and links (via stable isotope analysis) in order to better understand the exposure pathways of contaminats present in the aquatic/terrestrial ecotone.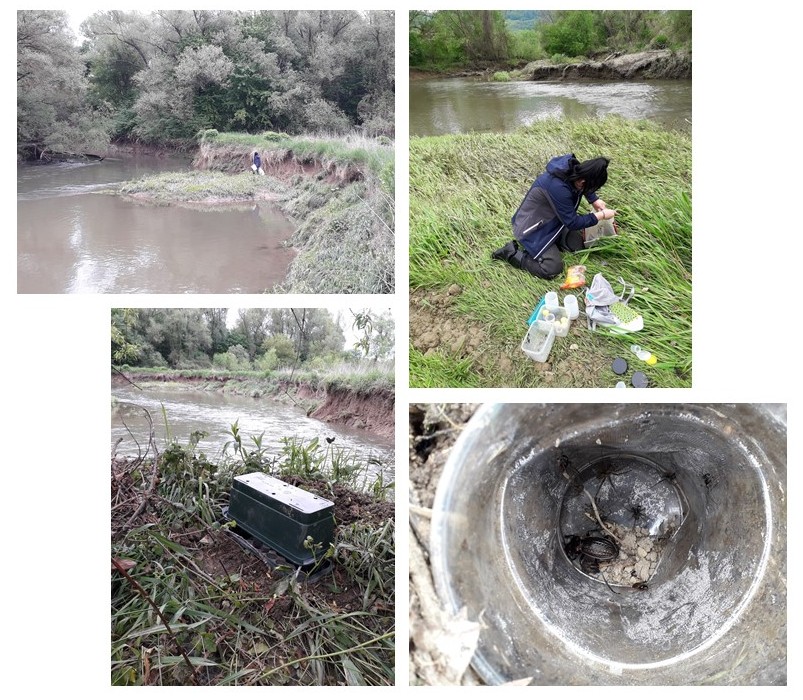 our research on EU Science for Environment Policy news
We just found out that the European Commission has released an overview of our Environmental Science & Technology article (https://pubs.acs.org/doi/10.1021/acs.est.0c07609) under its Science for Environment Policy news!
Science for Environment Policy is a news and information service published by Directorate-General Environment, European Commission, designed to help the policymakers keep up-to-date with the latest environmental research findings needed to design, implement and regulate effective policies (https://ec.europa.eu/environment/integration/research/newsalert/about.htm).
Flyer on our paper can be found here or here.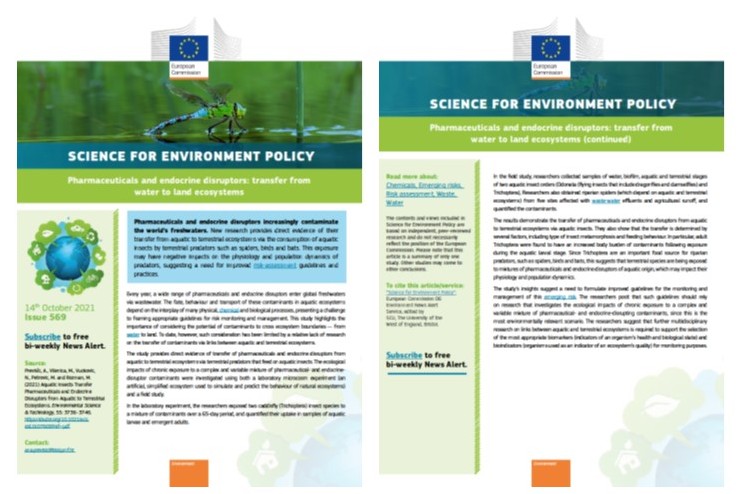 MUSE has a new team member!
We are happy to welcome Filip Ložek, PhD as a Postdoc on our Project!
In order to meet and greet, MUSE team and partners from the UNDERSTANDOR project (@multistressor) gathered last week to present and discuss our current results and plans for joint future collaboration!
Project activities update: sample preparation for DNA extractions
Iva Kokotović, Simon Vitecek and Vojtěch Kolář successfully conducted a mesocosm experiment at the WasserCluster Lunz. Iva is currently processing the samples, separating "parts" needed for the DNA extractions and potential non-target analyses.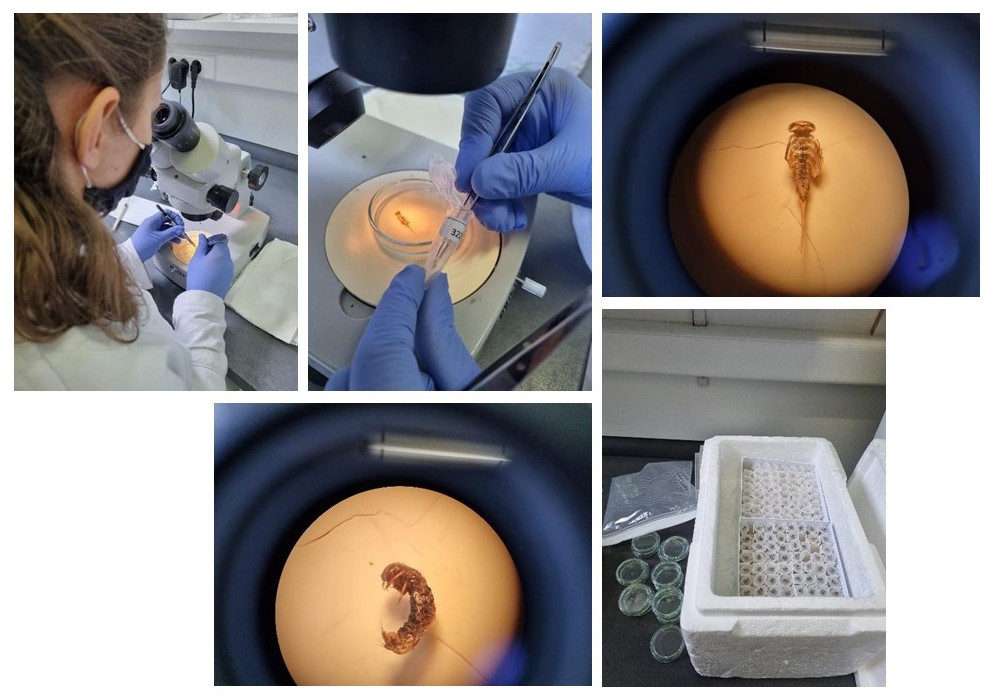 Project activities update: the experiment at the WCL
A mesocosm experiment with aquatic insects and moss was set up at the WasserCluster Lunz, Austria!
Project activities update: preparing the experiment at the WCL!
After successfully finishing the first microcosm experiment at our Faculty this summer, we are about to start the next one. The aim of this experiment is to evaluate effects of multiple stressors on biodiversity of macroinvertebrate bioindicator taxa and communities.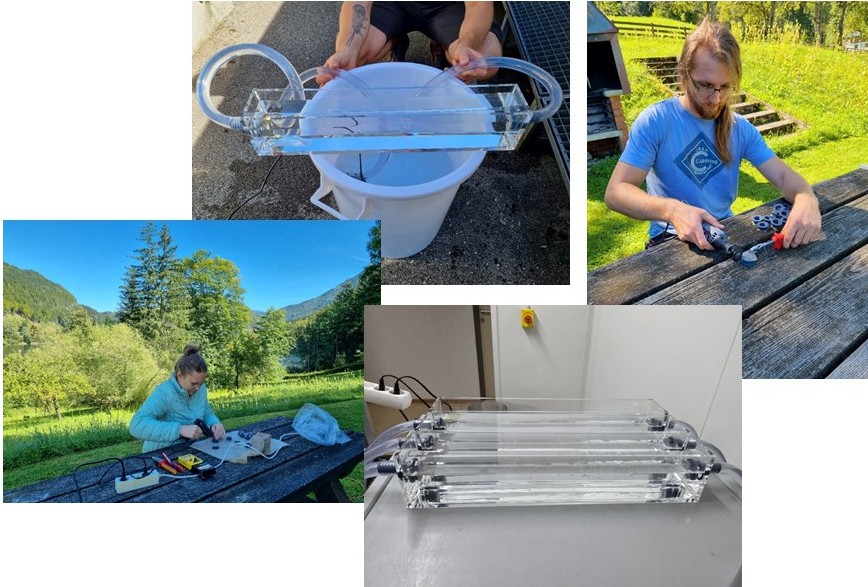 Iva Kokotović and Simon Vitecek are preparing the equipment at the WasserCluster Lunz, Austria.
Project activities update: microcosm experiment set up!
We have started our experiment! We aim at inferring single and combined effects of multiple stressors, i.e. mixture of ECs (PhACs, EDCs, antibiotics) and increased water temperature on different levels in aquatic food webs. We will try to find out how different caddisfly species with different ecological trait and habitat preferences react to multiple stressors.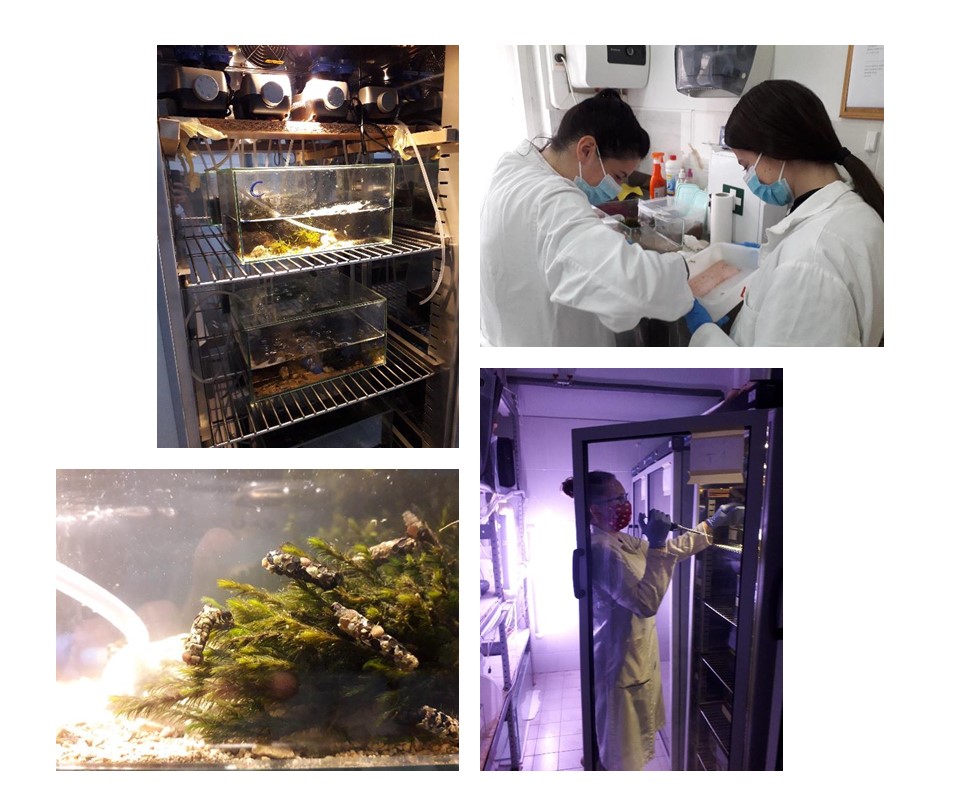 Project activities update: fieldtrips 2021
We had an interesting and very successful field sampling at the wastewater impacted Sutla River, NW Croatia. We collected aquatic benthic fauna, macrophytes, but also terrestrial stages of aquatic insects and terrestrial riparian fauna (spiders, beetles, earthworms).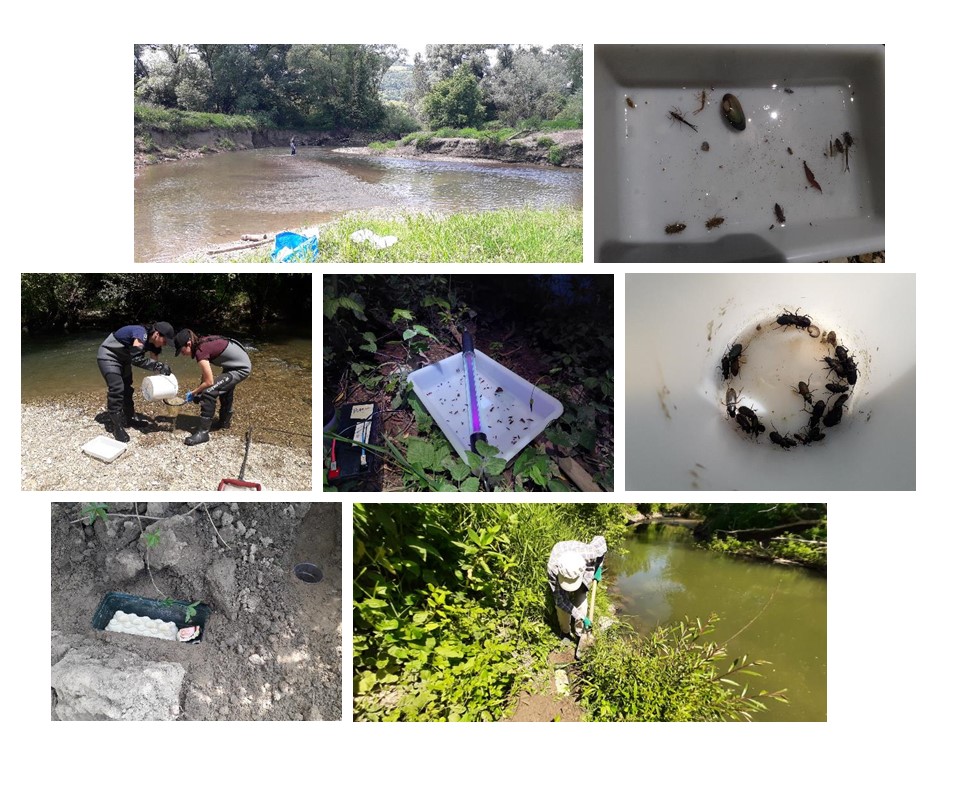 Objavljeni radovi
Vodeni kukci prenose onečišćujuće tvari iz vodenih u kopnene ekosustave
U sklopu istraživanja prijenosa onečišćujućih tvari kroz hranidbene mreže koje povezuju vodene i kopnene ekosustave, provedeno je istraživanje akumulacije i prijenosa farmaceutika, endokrinih disruptora i metala pomoću vodenih kukaca, a rezultati su upravo objavljeni u dva znanstvena rada.
Rad objavljen u znanstvenom časopisu Environmental Pollution (IF = 6,792) uspoređuje akumulaciju i prijenos metala kod vretenaca (Odonata) i tulara (Trichoptera) s obzirom na razlike u tipu metamorfoze i načina prehrane. Rad je dostupan na poveznici:
https://www.sciencedirect.com/science/article/abs/pii/S026974912100378X?via%3Dihub
U radu objavljenom u znanstvenom časopisu Environmental Science & Technology (IF = 7,864) objavljen je prvi direktni dokaz prijenosa farmaceutika i endokrinih disruptora iz vodenog u kopneni ekosustav putem emergencije vodenih kukaca. Suprotno metalima, kod farmaceutika i endokrinih disruptora utvrđeno je povećanje koncentracije u tkivima odraslih tulara u odnosu na ličinke, što ima važan utjecaj na kopnene predatore u riparijskoj zoni. Rad je slobodno dostupan (otvoreni pristup) na poveznici:
https://pubs.acs.org/doi/abs/10.1021/acs.est.0c07609
Macrophytes: our sample processing workflow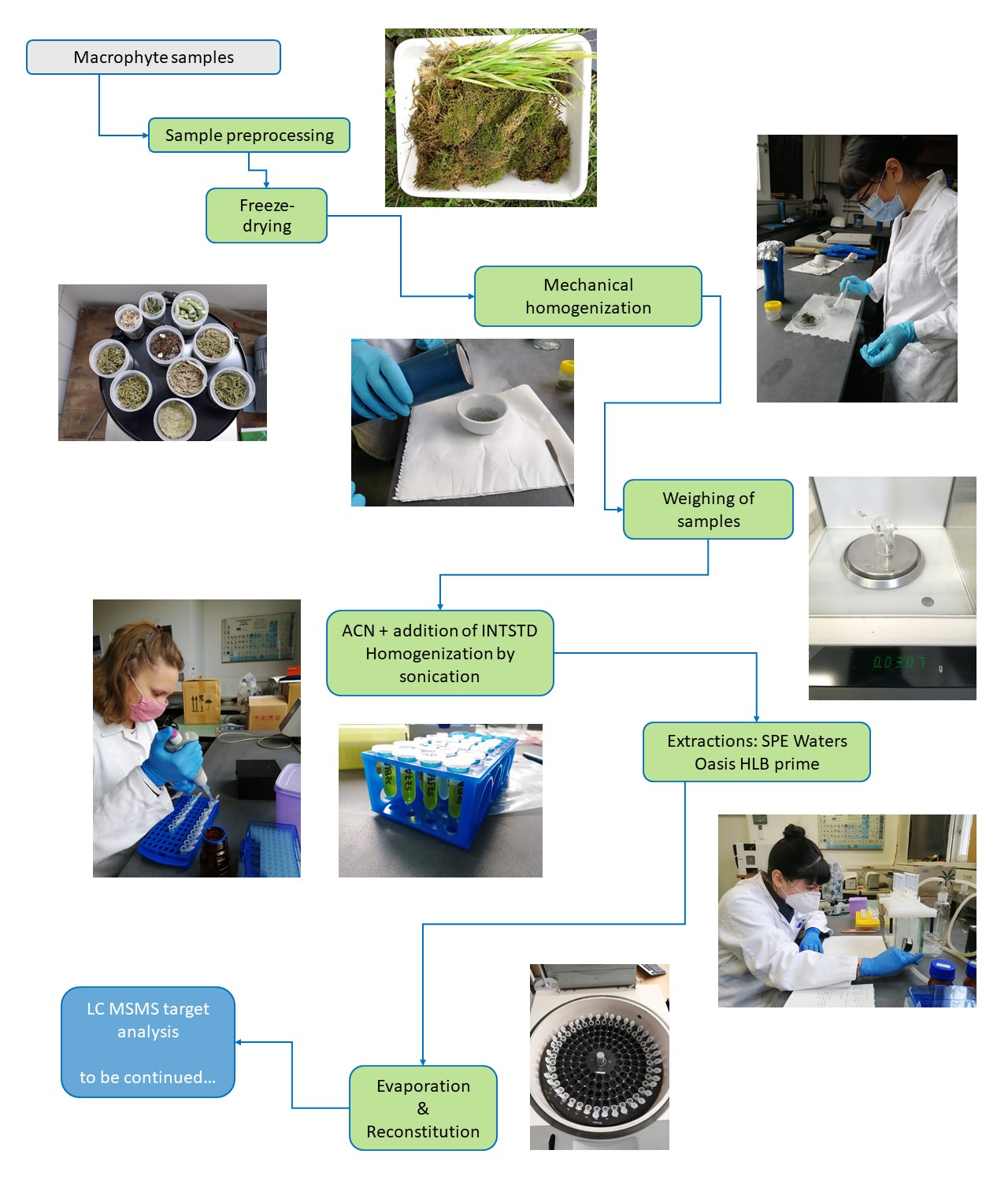 Busy autumn in the Lab!
We were successful in our fieldtrips and now we have many samples to process! Here are some photos showing how collected macrophyte samples look like (Bryophyta in this case) and how we prepare the samples for further processing. Currently samples are being freeze-dried, then the solid phase extractions will follow.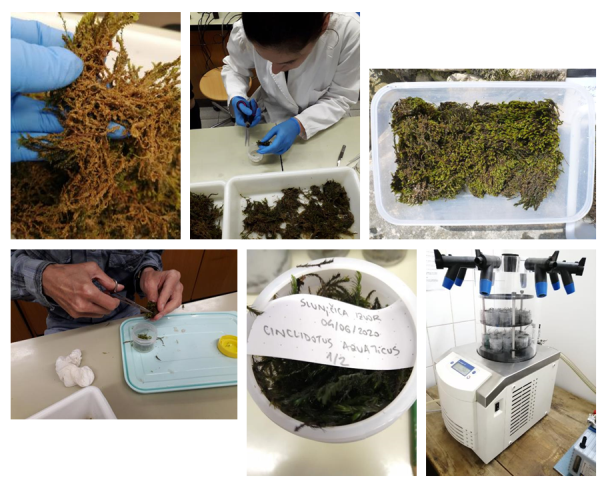 Project activities update: finally fieldtrips!
After all catastrophic events this spring (the Covid-19 pandemic and the earthquake that damaged our Faculty building), we are finally in the field collecting samples! According to our project plan, we are conducting in situ sampling to examine bioaccumulation and biomagnification potential for emerging contaminats (ECs) of vascular and nonvascular macrophytes (mosses), emerging aquatic insects and their terrestrial predators. Here are some photos of sampling in the karstic rivers Kupa, Korana, Mrežnica (control sites and sites impacted with wastewater effluents).